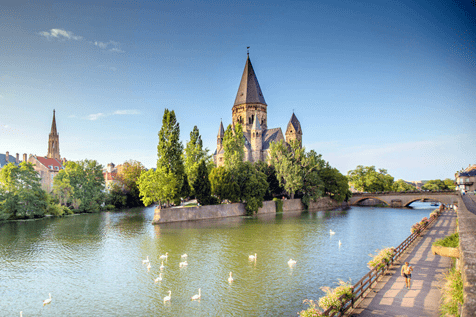 The capital of Moselle is a city where it is good to live. It is located at an altitude of 172 meters, which is lower than the average of France which is 242 meters. The climate of Metz is said to be temperate warm, meaning that the coldest month of the year, January, has a positive average temperature of 1.4°C.
Average rainfall of 49 mm makes April the driest month. June is the wettest month with an average of 70 mm. July is the hottest month of the year with an average temperature of 18.5 °C and with a maximum temperature of 24 °C, what is neither too hot nor too cold avoiding the inconveniences of too hot temperatures for the Messins (the inhabitants of Metz). The average annual temperature in Metz is 9.9 °C.
In France, the number of days per year with rain (rainfall per day greater than 1 mm) varies from 67 days (Cap Corse) to 210 days (Brest). With an average of 168 rainy days, Metz equals Nantes and is better positioned than many French tourist cities such as Bordeaux (171), Biarritz (181), Pau (172) or Deauville (183).
Sources :
https://meteofrance.com/previsions-meteo-france/metz/57000
https://fr.climate-data.org/europe/france/lorraine/metz-334/
http://www.metweb.fr/Statistiques/Stat_pluie/statistiques_pluie_nbjours.htm
It's time to take action!
Metz has been elected the 4th most beautiful city in Europe by https://www.europeanbestdestinations.com/destinations/metz/